Vancouver Teeth Whitening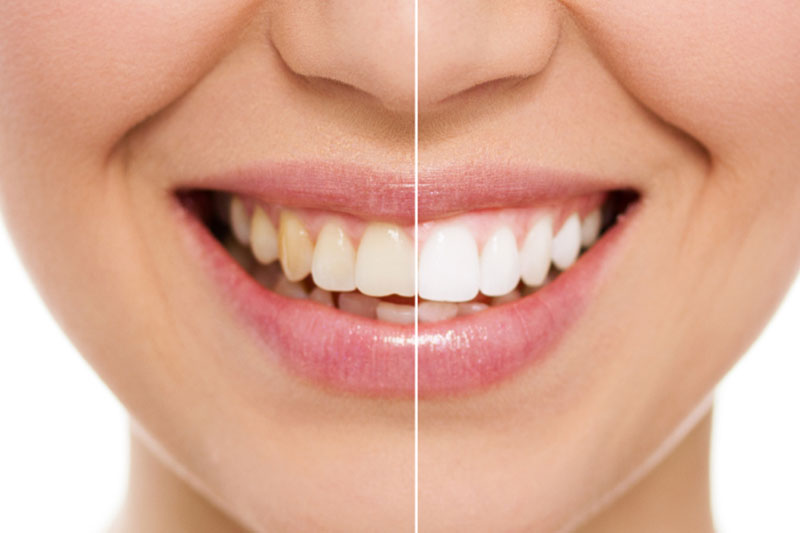 Your Vancouver teeth whitening professionals know that the natural colour of teeth is not necessarily white. Sometimes it is yellow and sometimes even grey; moreover, teeth darken with age and with the build-up of surface stains that come from the consumption of certain drinks (like wine) and foods, or from the use of tobacco.
Vancouver Teeth Whitening Procedures
Even though teeth are not naturally white, whitening one's teeth has become an increasingly popular procedure in Canada. There are two types of whitening that are options for patients: in-office power bleaching and at home whitening trays. Patients consult with our doctors to consider the cause of tooth discolouration because, in certain instances, a bleaching treatment will not have the desired effect: the colour of fillings or crowns, for example, will not change.
In Office Power Bleaching  – Poladay
A strong hydrogen peroxide is placed on the teeth in a one-hour treatment. A special product is placed to protect the gums.  This product is chemically activated and does not require the discomfort of heat, lasers, or bright lights.  The whitening will last up to six months unless maintained with an at-home system.
At Home Whitening – Poladay
Whitening is a quick and simple process that can be done at home with custom-made whitening trays.  These trays are worn for thirty minutes a day for two to three weeks.  After the initial two to three weeks of treatment, the trays are then worn for thirty minutes once a month to maintain the whitening effect.
Whitening is surprisingly gentle on one's teeth, even if it is tough on stains. This treatment is ideal for those who are largely content with the appearance of their teeth, but would like to see them whiter. The effects are not permanent, although they last a significant amount of time: patients will require periodic bleaching treatments. A one-hour in-office treatment will produce the same amount of whitening as a two-week home regiment.
Contact us if you have any questions about teeth whitening, or request your appointment online.
Easily request your appointment online. New patients welcome!